Birth of St John the Baptist [Detail]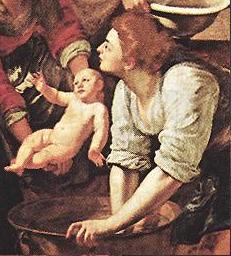 c. 1635
"Artemisia was undoubtedly a celebrated artist, particularly known for her depiction of anatomically correct female nudes and therefore having an advantage over her male contemporaries at the time when access to female models in academies was still uncommon. She had an established business practice and was financially independent. Artemisia also left a considerable impact on other renowned artists, including the likes of Rembrandt, whose naturalistic female nudes seem to be loosely based on her Cleopatra, Susanna, and Lucretia characters."
"Conservative women-artists only increase Artemisia's revolutionary significance, because most of her works portray clearly untypical females, often to the point of role reversal. Instead of presenting a limited ideal, her characters represent complete individuals: her strong women convey emotionality, traditionally evil women like Cleopatra are portrayed as heroines, while saintly women are not idealized."
"Sex combined with manipulation means power is the misconceived typical strategy of a woman. From movies such as "The Last Seduction" to "Poison Ivy", women are portrayed as beguiling bitches. The only level of creativity that they seem capable of is the craft of manipulation."
"Her biography illustrates her independence from her male associates. After her rape trial, Artemisia divorces herself from her father and her husband, whereby she develops her skills and her reputation to enable her entry into the royal court. The men who had violated her were ousted from her life."
"The series of "Judith and her maidservant" are demonstrative of her abilities to achieve independence from her male peers. They became her alter egos giving her the voice she needed. These paintings speak of a rebelliousness and rage toward the authoritarian patriarchal society. Perhaps it is her attempt to channel the violent emotions experienced during her rape trial. If not that, than the murder of Holofernes is a metaphor for killing male oppression. It defies male domination clearly and honestly without sexual manipulation."
"A month after the trial had ended Artemisia married a Florentine artist called Pietro Antonio di Vincenzo Stiattesi on November 29, 1612. It is documented that they both visited the Academie del Disegno and Artemisia became a member of the Academy in 1616. It was during her time in Florence that she started changing her signature on her paintings from Gentileschi to Lomi. This was because of a growing tension in the relationship between Artemisia and her father. At the Academy she became a friend with Galileo Galilei, who exchanged letters to each other. She painted another portrayal of Judith, Judith and her maidservant (Florence, Palazzo Pitti, 1613-14). She then painting another scene of Judith Slaying Holofernes (Florence, Uffizi, c. 1620) and it was during her stay in Florence that she gave birth to a daughter, in about 1618, before she moved away."
"It should be noted that the 1614 painting of Judith and her maidservant contain curious subtle features. For example, Judith's hair has an ornament with a picture of a male hero, possibly St. George or David with a sword, which reinforces her powerful quality. Her sword handle has an image of a monster, perhaps the Gorgon, which means that a role reversal* was created through the allusion to her myth. Even more interestingly, Judith's bracelet in the second Holofernes painting has tiny images of Artemis, whose virginity was a sign of her independence from male domination. Artemisia probably added these images of her related namesake as a signature."
[*Perseus decapitated Medusa, and a gender role reversal is created when Judith decapitates Holofernes.]